Featured, Products
What is Stress Relaxation?
And How Does It Affect the Performance of Your Garments?
Are customers complaining about waistbands "growing"? Are they saying bras don't fit well because bands get looser during the day?
It's not in their heads. It's a real problem…and Bemis is pleased to present a real solution: EverFit™ 6430.
What is Stress Relaxation?
When customers complain that a waist band or bra band is "growing," they are often referring to what's known as "stress relaxation."
"An example of stress relaxation," TeachEngineering explains, "is when a rubber band, which is a polymer, is wrapped around a newspaper for an extended period of time. The rubber band is held at a constant displacement, however the force that it is applying to the newspaper decreases over time and it loses its integrity. The force continues to decrease until the material reaches an equilibrium in which the force becomes constant."
In apparel, stress relaxation occurs when polymers in a band break down and don't recover, causing the wearer to feel as though the garment has become larger.
How Does EverFit™ 6430 Solve This Problem?
EverFit™ 6430 was engineered and designed to be an elastic replacement that provides perfect fit and comfort.  It works for two main reasons:
EverFit™ 6430's low modulus allows for a thicker gauge. This means a low ratio of the total gauge penetrates into the fabric, so the softness and immediate recovery properties of the adhesive are retained. 
EverFit™ 6430's unique chemistry allows for a high elongation rate, making it likely to stretch more than the fabric without any deformation.
These two properties help prevent stress relaxation from occurring.  Simply said, EverFit™ 6430 stretches extremely easily and snaps back. Great performance made easy!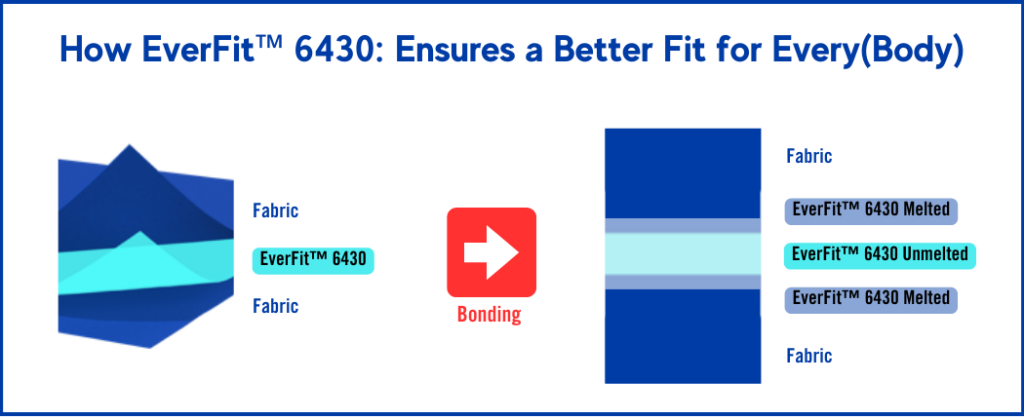 Another cool feature: While EverFit™ 6430 is a high gauge adhesive, it feels light, thin and soft. As a result, EverFit™ 6430 is an excellent choice for intimates and performance wear.
Enhance the Feel and Performance of Your Garments
Contact your Bemis sales manager to learn more about EverFit™ 6430 and see how we can help provide your customers with the comfort and support they're looking for!
Don't have an assigned sales manager? Contact us.